Anaconda Mining Inc is pleased to announce plans for a resource expansion and exploration program for the summer/fall of 2018 at the Company's wholly owned Point Rousse Project in the Baie Verte Mining District of Newfoundland, which includes the fully-operational Pine Cove Mill and tailings storage facility.

The Exploration Program consists of 5,000 metres of diamond drilling at three priority targets at Point Rousse: expansion drilling at the Argyle Deposit, and exploration drilling at the Anoroc and Deer Cove Prospects. The Exploration Program will also include 30-line kilometres of ground magnetic and Induced Polarization ("IP") geophysical surveys.


"Since 2010, the Point Rousse Project has produced 118,028 ounces of gold and generated approximately $50 million in Project-level EBITDA*. In that time, Anaconda has developed two mining operations and is in the process of developing a third at Argyle.

The Exploration Program will focus on resource expansion at the Argyle Deposit as well as drilling at the Anoroc and Deer Cove Prospects, where we believe there is high potential for the discovery of more gold deposits. Our goal is to continue to extend our production profile at Point Rousse, which currently includes two years of mineral reserves from Pine Cove and Stog'er Tight, with expected throughput to follow from Argyle, which is currently in the permitting process. The Exploration Program supports our growth strategy in Atlantic Canada, leveraging the Company's extensive mine and mill infrastructure."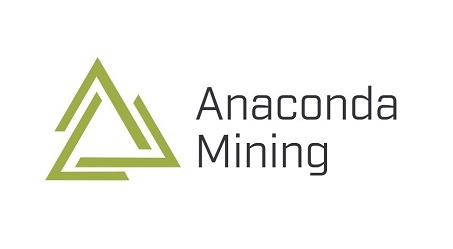 Significant exploration and development attributes of the Point Rousse Project include:

Ore production from two mining areas, three mineral deposits, numerous prospects and showings;
A 1,300 tonne per day mill, in-pit tailings facilities with 15 years of storage at current throughput rates, and a deep-water port able of docking Panamax size vessels;
Three mineralized trends with approximately 20 kilometres of prospective geology including the Scrape, Goldenville and the Deer Cove Trends;
The Pine Cove, Stog'er Tight and Argyle Deposits are located within the Scrape Trend and define a 5-kilometre strike of fertile geology and cumulatively contain 119,570 ounces of Indicated Resources (1,610,600 tonnes at 2.30 g/t) and 78,090 ounces of Inferred Resources (1,245,300 tonnes at 1.95 g/t)**;
Highly prospective for the discovery of gold through expansion of existing deposits or the discovery of new deposits; and
Well understood geological and exploration model.
As outlined in Anaconda's recent NI 43-101 Technical Report, dated February 26, 2018, the Company has over two years of reserves from the Pine Cove and Stog'er Tight mines at the Point Rousse Project. This includes 191,500 tonnes of higher grade mineral reserves from the Stog'er Tight mine and the addition of two pushbacks at the Pine Cove mine, scheduled for 2019.

The Argyle Deposit is anticipated to be the next available feed source to the Pine Cove Mill, with permitting underway. The Argyle Deposit remains open for expansion with the potential to increase in size over the next year, because of an improved geological understanding of the mineralized areas leading to more efficient drilling.


In addition to Argyle, two other key drill targets, the Anoroc and Deer Cove prospects, have the potential to provide additional resources for development, as they have similar geological characteristics and setting to the Pine Cove, Stog'er Tight and Argyle deposits.


The Exploration Program will begin in late June and is expected to continue into the early fall of 2018. Drill results will be released as they are available and interpreted.

Argyle
The Argyle Deposit contains a NI 43-101 resource including 38,300 ounces Indicated Resources (543,000 tonnes grading 2.19 g/t gold) and 30,300 ounces of Inferred Resource (517,000 tonnes grading 1.82 g/t gold) **. The deposit is hosted within the Argyle Gabbro and trends easterly and remains open for expansion in all directions (Exhibit B). The Exploration Program at Argyle will include 3,000 metres of diamond drilling, 15 line kilometres of IP and magnetic surveying as well as detailed soil geochemistry and geological mapping. Drilling is designed to follow up on the high-grade results from drilling in winter 2018 that intersected 12.47 g/t gold over 5.0 metres and 7.87 g/t gold over 7.0 metres in drillholes AE-17-38 and AE-17-74 respectively.

Anoroc
The Anoroc Prospect is hosted within the same geological setting and host rocks as the Pine Cove Deposit and includes approximately 500 metres of strike between Anoroc and the Pine Cove Mine. Drilling at Anoroc will test for the westerly continuation of mineralization between the west end of the Pine Cove Pit and the Anoroc Prospect to the southwest where previous drilling has outlined gold mineralization including 2.68 g/t gold over 15.9 metres in drillhole PC-15-257 (see news release dated January 25, 2016) and 9.9 g/t gold over 2.0 metres in historical drillhole AN-90-01. A 15 line kilometer ground magnetic survey is also contemplated to be completed at Anoroc (Exhibit C).

Deer Cove
The Deer Cove Prospect includes all showings associated with a similar geological setting and host rocks as at the Pine Cove Mine and includes a gold bearing quartz vein explored by Noranda with an exploration adit in the 1980s (Exhibit D). The Exploration Program at Deer Cove will comprise compilation of historic IP geophysical surveys and drill testing of combined geochemical and geophysical targets along the Deer Cove Trend. Historic drilling associated with the quartz vein at Deer Cove includes the following select drill results:
22.74 g/t gold over 5.0 metres in drillhole DC-86-001;
11.97 g/t gold over 4.1 metres and 26.12 g/t gold over 3.6 metres, and 5.80 g/t gold over 3.4 metres in drillhole DC-87-073;
29.60 g/t gold over 1.7 metres in drillhole DC-88-100; and
24.39 g/t gold over 2.3 metres in drillhole DC-10-122.

ABOUT ANACONDA MINING INC.
Anaconda is a TSX-listed gold mining, development, and exploration company, focused in the prospective Atlantic Canadian jurisdictions of Newfoundland and Nova Scotia. The Company operates the Point Rousse Project located in the Baie Verte Mining District in Newfoundland, comprised of the Stog'er Tight Mine, the Pine Cove open pit mine, the Argyle Mineral Resource, the fully-permitted Pine Cove Mill and tailings facility, and approximately 5,800 hectares of prospective gold-bearing property. Anaconda is also developing the Goldboro Project in Nova Scotia, a high-grade Mineral Resource, with the potential to leverage existing infrastructure at the Company's Point Rousse Project.

The Company also has a pipeline of organic growth opportunities, including the Great Northern Project on the Northern Peninsula of Newfoundland and the Tilt Cove Property on the Baie Verte Peninsula, also in Newfoundland.