Teranga Gold Corporation is pleased to announce two new gold discoveries from its exploration program at Golden Hill, its joint venture with Boss Resources Limited , in Burkina Faso, West Africa.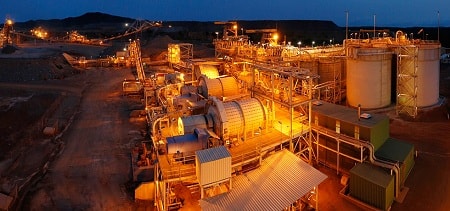 The Company's new discoveries are located within the Ma and Nahiri prospects, representing the first two of the ten drill ready targets that have been identified to date at Golden Hill. All ten targets are within close proximity to each other.
"The assay results for Ma and Nahiri are very encouraging for an early stage exploration program," said David Mallo, Teranga's Vice President, Exploration. "They display good grades, widths, continuity and strike length in each prospect, and the mineralized zones occur from surface with good oxide depth developed."

Additionally, the next two targets - Jackhammer Hill and Pourey-Peksou - were also drilled during the first quarter. The Company can report that, while these assay results are pending, drilling intersected the expected alteration and structures at each of these targets.

Mr. Mallo added, "Overall, we are excited by these positive results, especially given their close proximity to one another. Based on the success of this first phase, a multi-drill second phase program on these targets has begun."

The Golden Hill property is located within the highly mineralized Houndé Greenstone Belt in Burkina Faso. This belt hosts a number of high-grade gold discoveries, including the recently discovered Siou, Yaramoko and Houndé deposits, the latter property being contiguous with Golden Hill. To the south of Golden Hill is another large land position where active exploration programs are well underway.

HIGHLIGHTS
Initial assays from the Company's initial drilling evaluation at the Ma prospect intersected favorable results over the minimum 1,300-metre strike extent drilled to date. Highlight results include:

6.5 m @ 2.67 g/t Au and 3 m @ 8.86 g/t Au in GHDD-010
9.8 m @ 1.92 g/t Au including 5.3 m @ 2.62 g/t Au in GHDD-011
7.9 m @ 2.71 g/t Au in GHDD-015
5.2 m @ 5.15 g/t Au in GHDD-017
4.9 m @ 3.64 g/t Au in GHDD-020

The initial drilling evaluation at the Nahiri prospect intersected broad, highly anomalous intersections within which highlight intervals include:
14 m @ 2.85 g/t Au including 5 m @ 6.56 g/t Au and 18 m of 1.46 g/t Au including 4 m @ 2.38 g/t Au in GHRC-011
13 m @ 1.56 g/t Au including 6 m @ 2.23 g/t Au in GHRC-010
12 m @ 1.25 g/t Au including 3 m @ 2.28 g/t Au in GHRC-001
12 m @ 1.06 g/t Au and 1 m @ 11.00 g/t Au in GHRC-015

About the Golden Hill Property Joint Venture
The Golden Hill property is comprised of three adjacent exploration permits covering 468km2 located in southwest Burkina Faso in the central part of the Houndé Greenstone Belt. Teranga, through the acquisition of Gryphon Minerals Ltd, has an earn-in agreement with Boss pursuant to which Teranga, as the operator, can earn an 80 percent interest in the joint venture upon delivery of a feasibility study and the payment of AUD2.5 million.

About Teranga
Teranga is a multi-jurisdictional West African gold company focused on production and development as well as the exploration of more than 5,000km2 of land located on prospective gold belts.


Since its initial public offering in 2010, Teranga has produced more than 1.2 million ounces of gold from its operations in Senegal. Following its recent acquisition of Gryphon Minerals, the Company is fast-tracking the completion of a feasibility study for the Banfora Project. Concurrent with its production and development activities, exploration programs are underway to seek to increase the Company's reserve base through resource conversion and making new discoveries. Teranga has a strong balance sheet and the financial flexibility to continue to grow its business.


Steadfast in its commitment to set the benchmark for responsible mining, Teranga operates in accordance with the highest international standards and aims to act as a catalyst for sustainable economic, environmental, and community development as it strives to create value for all of its stakeholders. Teranga is a member of the United Nations Global Compact and a leading member of the multi-stakeholder group responsible for the submission of the first Senegalese Extractive Industries Transparency Initiative revenue report. The Company's 2015 responsibility report, which is available at

www.terangagold.com/2015responsibilityreport, is prepared in accordance with its commitments under the United Nations Global Compact and in alignment with the Global Reporting Initiative guidelines.