Comstock Mining Inc announced , that along with its subsidiary, Comstock Industrial LLC, it received the Nevada Certified Site accreditation from the NNNDA on its strategically situated, 98-acre industrial property in Silver Springs, Nevada, in immediate proximity of the super-routed USA Parkway and Highway 50 intersection.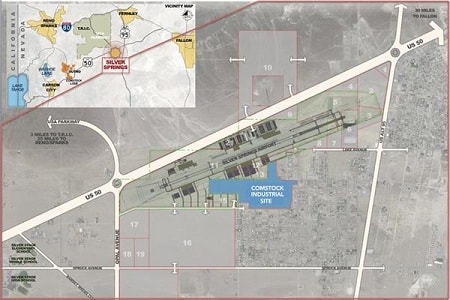 The site is located in the direct vicinity of the expanding Tahoe Reno Industrial ("TRI") Center, the Silver Springs Airport and the USA Parkway—which enables the most efficient throughways to Fallon, Yerington, Carson City, Las Vegas, Phoenix, and Los Angeles, and beyond. This site is only the second site to achieve this Northern Nevada certification and is the first certified in Lyon County.

The Nevada Certified Site Program is designed to provide critical decision-making information to business owners, developers and site selectors to allow informed, expedited decisions. The Nevada Certified Site designation serves as a pre-qualification for buyers, indicating that a property's title is clear, appropriately zoned, possesses sufficient utilities, adequate transportation access and other critical infrastructure for industrial and commercial uses. It also includes a confirmation that a positive, Phase One environmental assessment has been completed, among many other criteria. The designation ensures that a company's expansion plans will not be held back by costly delays in permitting and approvals.

NNDA also cited several positive factors for locating a business in Nevada
Nevada consistently ranks as one of the top ten states to do business based on taxation & regulation, workforce quality, and living environment;

Northern Nevada's centralized location can reach 11 western states within one to two transport days;
Nevada's favorable tax structure does not have a Corporate Income Tax, Personal Income Tax, Inventory Tax, Unitary Tax, Estate Tax, Gift Tax, Franchise Tax, Inheritance Tax or Special Intangible Tax; and Nevada has one of the lowest costs to incorporate in the U.S.

"The commercial and industrial real estate market in the Sierra Region is growing dramatically," said NNDA Executive Director Robert Hooper. "Industrial vacancy rates are down and, in many cases, current buildings are not meeting the market's needs. Building a new facility to meet the specialized needs of today's market is ideal but can take too long to get through the due diligence and approval processes. The Nevada Certified Site program solves the problem and helps buyers, sellers and developers accelerate their economic goals by doing and certifying the heavy administrative work up front."


To become certified, the owners of a property must prove that their land meets 35 different requirements and benchmarks designed to speed up the due diligence period most buyers go through. The program is designed to support businesses that are looking to construct their own building, but don't have the time to wait while all of the preliminary assessments are done on the property.

Corrado De Gasperis, President & CEO of Comstock Mining Inc. said, "We are pleased to receive this advantageous site certification from NNDA. The NNDA process was incredibly thorough and collaborative, especially working with Lyon County officials and local utilities. The certification required us to meet more than 30 different prerequisites and benchmarks, all designed to expedite the development process most buyers go through. Essentially, this site is 'shovel ready', saving everyone time and money."

The 98-acre Comstock Industrial site in Silver Springs, Nevada, is also located adjacent to the Silver Springs Airport, multiple, expansive parcels of commercial and industrial properties and immediately within the municipal water and sewer service area, serviceable by electrical power, natural gas, and communications. The Company also owns over 256 acre-feet of the most senior water rights in the basin. NNDA has uploaded the certified site information packet at this link:
http://www.nevadacertifiedsites.com/service/98-acre-commercialindustrial-site/


The property is ideally situated with excellent logistics in immediate proximity to where USA Parkway (State Route 439) connects with US 50 from Interstate 80, through the TRI Center, also known as the largest industrial park in the world. The Company plans to sell certain, non-mining related lands, buildings and water rights, including the Certified Site, for expected net cash proceeds of more than $14 million during the next 12 to 18 months. The Nevada Department of Transportation has an animated flythrough of USA Parkway (SR 439) that can be viewed at this link:
http://www.nevadadot.com/projects-programs/road-projects/usa-parkway
About Comstock Mining Inc.
Comstock Mining Inc. is a Nevada-based, gold and silver mining company with extensive, contiguous property in the Comstock District and is an emerging leader in sustainable, responsible mining. The Company began acquiring properties in the Comstock District in 2003. Since then, the Company has consolidated a significant portion of the Comstock District, amassed the single largest known repository of historical and current geological data on the Comstock region, secured permits, built an infrastructure and commenced production in 2012. The Company continues evaluating and acquiring properties inside and outside the district expanding its footprint and exploring all of our existing and prospective opportunities for further exploration, development and mining. The near term goal of our business plan is to maximize intrinsic stockholder value realized, per share, by continuing to acquire mineralized and potentially mineralized properties, exploring, developing and validating qualified resources and reserves (proven and probable) that enable the commercial development of our operations through extended, long-lived mine plans that are economically feasible and socially responsible.

Corrado De Gasperis
President & CEO
Tel (775) 847-4755
This email address is being protected from spambots. You need JavaScript enabled to view it.
Zach Spencer
Investor Relations
Tel (775) 847-5272 ext. 151
This email address is being protected from spambots. You need JavaScript enabled to view it.