Graphite One Resources Inc. notes that its Graphite Creek development project located near Nome, Alaska was included among the infrastructure projects introduced into testimony to the U.S. Senate Energy and Natural Resources Committee, at its March 30, 2017 hearing, entitled "The potential for infrastructure improvements to create jobs and reduce the cost of living through all-of-the-above energy and mineral production in Alaska."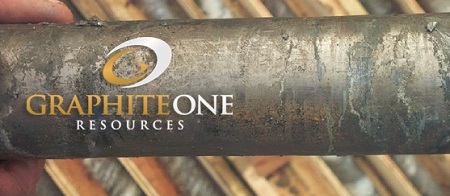 In written testimony to the Senate Energy and Natural Resources oversight hearing, Alaska's State Geologist, Steve Masterman, listed the Graphite Creek Project among the state's "significant potential development and infrastructure projects." Mr. Masterman noted:

"The Graphite Creek Project Located on the Seward Peninsula, approximately 50 miles from Nome, this is the largest graphite deposit in the United States and could supply the nation's graphite needs for decades. Natural graphite is a "Supply Critical Mineral", and currently there is no domestic production. Infrastructure needed for the project is anticipated to include a 16-mile, all-season access road and a power generating facility. In addition, the project is exploring opportunities to locate their graphite reprocessing facility in Alaska, which, with infrastructure and financing support, would be an additional boost for local employment and economics."

Joy Baker, Port of Nome director, testified that her agency includes the Graphite One project among its infrastructure priorities:

"The world-class Graphite Creek prospect near Nome has attracted significant interest and it has been characterized as the largest and highest grade large flake graphite deposit in the U.S. Its development is very close and the Port of Nome will play a key role in both in supporting its development, and exporting the raw material for refining in Alaska or in the Lower 48."
"We are pleased to see Alaska state officials include our project in their infrastructure plans as outlined to the U.S. Senate," said Anthony Huston, CEO of Graphite One. "Graphite Creek has the potential to provide a secure U.S. source of a material critical to high-tech, green-tech and national security applications."

The Senate hearing and written testimony can be found at: https://www.energy.senate.gov/public/index.cfm/hearings-and-business-meetings?ID=0293C1AE-DB44-42B1-8EFB-B14AEFAD57E1


ABOUT GRAPHITE ONE RESOURCES INC.
GRAPHITE ONE RESOURCES INC. continues to develop its Graphite One Project (the "Project"), whereby the Company could potentially become the dominant American producer of high grade Coated Spherical Graphite ("CSG") that is integrated with a domestic graphite resource. The Project is proposed as a vertically integrated enterprise to mine, process and manufacture high grade CSG primarily for the lithium-ion electric vehicle battery market. As set forth in the Company's Preliminary Economic Assessment, potential graphite mineralization mined from the Company's Graphite Creek Property, is expected to be processed into concentrate at a graphite processing plant. The proposed processing plant would be located on the Graphite Creek Property situated on the Seward Peninsula about 60 kilometers north of Nome, Alaska. CSG and other value-added graphite products, would likely be manufactured from the concentrate at the Company's proposed graphite product manufacturing facility, the location of which is the subject of further study and analysis. The Company intends to make a production decision on the Project once a feasibility study is completed.

CONTACT INFORMATION
Anthony Huston
CEO, President & Director
(604) 697-2862
This email address is being protected from spambots. You need JavaScript enabled to view it.
Investor Relations Contact
1-604-684-6730
This email address is being protected from spambots. You need JavaScript enabled to view it.